Eyelash extensions Specialist Zahra
Advanced eyelash extension technician Zahra is a perfectionist when it comes to applying semi-permanent, eyelash extensions and takes her work very seriously. She has many years of experience and as well as specialising in classic eyelash extensions has also trained in many advanced master techniques such as, Tahitian feathering, Russian/Varia volume and bridging gaps. The procedure is very relaxing and her expertly applied lashes will feel smooth, weightless and clump free. The resulting look is that of enhanced natural beauty.
Zahra is fully certified and keeps updated with the latest trends by taking regular courses in all the latest techniques. She is a member of the World Association of Lash Artistry and Development, the Guild of Beauty Therapists and has trained with some of the world's best eyelash institute.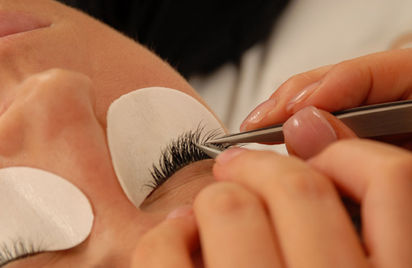 What are Kensington Lashes...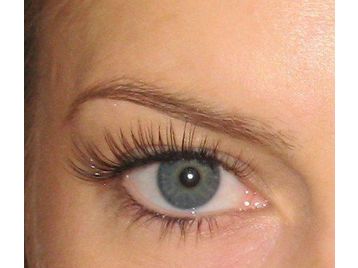 Kensington Lashes extend the length and thickness of your natural eyelash. Semi - permanent synthetic mink fibres are applied one by one to each of your individual natural lashes. This enhances your natural eye or can create the illusion of a different shaped eye such as a more lifted appearance or wider, more open eyes. Kensington Lashes can be applied for every day wear, special events or holidays.
First, a consultation between the client and Zahra is carried out in order to assess the eye shape and the quality of the natural lashes. Various lengths, curvatures and widths of lashes are carefully selected and blended together to create each custom set of lashes. Kensington lashes will be seamless and appear as if they are growing from your natural lash line. The effect is as though you are wearing great mascara without the need for actual mascara. An initial full set application is only required once, as long as you return for the regular required infill's every 2-3 weeks to maintain a neat and full appearance.
PRICES
CLASSIC EYELASH EXTENSIONS (one individual extension applied to one single eyelash)
-KL Natural Enhancement set 90mins £85
Ideal for those who want to try eyelash extensions for the first time, clients usually progress up to the KL classic full set.
-KL Classic full set 2hrs £99
The Classic full set is ideal for clients who want a step up from the Natural Enhancement set, giving a noticeably fuller look whilst still looking quite natural and not too overpowering.  Lashes will stay fuller longer than natural enhancement.
-KL Classic super full set 2hrs 20mins- £120
The Classic super full set achieves the fullest, maximum volume look using one by one lash application. Depending on the type of lash extension chosen by your technician to suit your needs, this look can go from a soft, full and natural look all the up to a heavy mascara look. This set is determined by the amount and strength of their natural lashes.
ADVANCED EYELASH TECHNIQUE 
LASH PERFECT TAHITIAN FEATHERING 

MULTI LASH ADVANCED TECHNIQUES
-KL Tahitian Feathering
Multiple lightweight lashes are applied onto on natural lash using varying lengths along the hair shaft to give a light natural feathering effect. Eyelashes appear full, natural and feathery. The resulting benefit of Tahitian feathering is to add volume to client's natural lashes whilst keeping a soft and delicate look. Great for those with sparse lashes and gaps in the natural lash line.
Tahitian feathering full set 2 hrs 30mins £130
-KL Russian Volume
The Russian Layering Technique (also known as Russian Lashes and 2D-6D lashes) originated in Russia and has recently made a breakthrough in the US and Europe. This multi-lash technique involves adhering multiple ultra-fine lashes onto a single natural lash. The main benefit of Russian Layering is that it gives clients a full, high impact glamorous look with maximum natural looking volume.
Russian Full set 2hrs 30mins-3hrs £140
-Bottom lash extensions
Bottom lashes last approximately 5-7 days using odour free glue great for special occasions or holidays 30 mins £25
Infill Prices...
Maintenance is required every 2-3weeks on eyelash extensions each grown out lash extension is removed and replaced with a fresh extension. The purpose of an infill is to tidy up and refresh your full set of lash extensions so they look as good as a new set.
Classic Lashes 60 min Infill £65 recommended 2-3 weeks
Tahitian Feathering 75mins infill £75 recommended every 2-3weeks
Russian Volume/Russian Varia 80min infill £80 recommended 2-3 weeks
**Please note KL does not infill eyelash extensions applied previously by other technicians, removal and new set may be recommended, Any infills over 4 weeks will be charged the rate of a full set**
-Removal
Kensington Lashes Removal £20 (20-30mins)
Removal of eyelashes carried out by another technician from £25
-Bridging Gaps
Bridging is available for those with gaps in the natural lash line ideal for a special event bridges last approximately 2-3days £5 per bridge
PACKAGE OFFER
Book 4 classic 60 minute infills £230(save £30) must be used within 12 weeks
Book 4 Tahitian 75 minute infills £260 (save £40) must be used within 12 weeks
Book 4 Russian 80 minute infills £280 (save £40) must be used within 12 weeks
IMPORTANT NOTES
v  All new clients are required to carry out a glue patch test a minimum 48 hours before treatment.
v  Clients who are currently having or had chemotherapy in the last 6 month are not suitable for this treatment.
v  Pregnant women are not suitable for this treatment unless medical note of approval is provided by doctor or midwife.
v  Please wash and shower prior to treatment, no water to be used on lashes within first 24 hours
v  Please remove all eye makeup prior to time of treatment or unfortunately time will be deducted from treatment time for removal of make up
v  Please remove contact lenses before treatment
Booking your appointment is easy. Please either call us on
0208 875 1199 or book online...
We also have voucher available which are a great gift for the one you love...