Why Lumenis Laser Hair Removal Solution
What is it?
Lumenis LightSheer family of permanent hair reduction products offers unparalleled treatment speed and efficacy with optimal patient comfort...
What should I expect?
6 to 12 treatments are required to achieve permanent hair reduction. This is due to the increased effect of the laser on the hair in the early growth stage (anagen). Not all the hairs are in the same phase at a given time.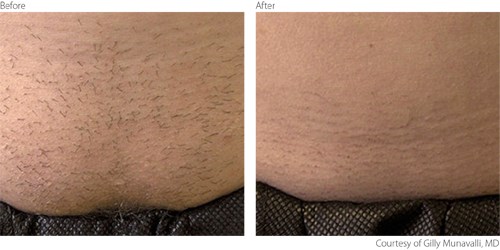 How does Lumenis laser hair removal work? 
The LightSheer laser system uses a state of the art 805nm diode laser, which ensures safety for all skin types. Repeated laser pulses target existing hair, creating a direction of energy into the hair follicles that prevent future growth. The LightSheer allows your physician to truly customize treatment for your hair type, skin type and lifestyle by utilizing 2 different handpieces and technologies...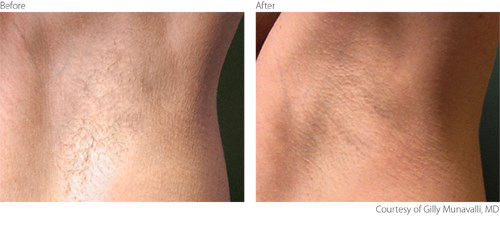 What Are Diode Lasers?
A diode laser uses semiconductor technology that produces coherent projection of light in the visible to infrared range. It uses a light beam with a narrow spectrum to target specific chromophores in the skin. Compared to other laser systems such as the Ruby and Alexandrite, the 800nm diode laser wavelength offers the deepest penetration levels and superior melanin absorption. These unique characteristics make the diode laser the most suitable technology for laser hair removal,  enabling safe and effective treatment of all skin and hair types, in all body areas.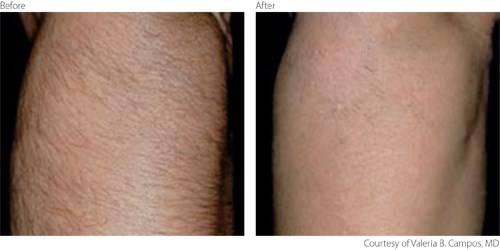 How Does A Diode Laser Work?
Diode lasers use the principle of selective photothermolysis (abbreviated SPTL) to target specific chromophores in the skin, usually melanin or blood.  The lasers damage the chromophores by selectively heating them while leaving surrounding tissue unharmed.  When treating unwanted hair, for example, the melanin in the hair follicles is targeted and damaged which results in the disruption of hair growth and regeneration.  A diode laser can be complemented by cooling technology, or other pain reducing methods which improve treatment efficacy and patient comfort.
Treatment cost:
For Women and Men
Nose/Ears £60
Upper Lip £60
Chin £70
Jaw Line £85
Lip & Chin £90
Lip , Chin & Jaw Line £120
Side Burns £80
Full Face £150
Neck £100
Forehead/Hairline £95
Breast Area £110
Nipple Area £80
Underarms £100
Forearms £130
Full Arm £185
Stomach (centre line only)£80
Abdomen £120
Bikini Line Standard £120
High Leg Bikini Line £145
Lower Legs (inc Knees) £185
Upper Legs (inc Knees) £195
Upper Legs & Bikini Line £265
3/4 Leg £245 Full Leg £285
Full Leg & Bikini Line £350
Full Leg & Brazilian £400 
1/2 Leg, Bikini & Underarm £380
Full Leg , Brazilian & Underarm £480
Brazilian/ Hollywood include peri anal £180.00
Shoulders  £135

Upper Arms £150
Half Back £165
Full Back £185
Back & Shoulders £275
Chest £165
Chest & Abdomen £185
Hands & Fingers £95
Feet & Toes £95
Special offer this month: 20% off laser hair removal price plus buy 5 get 6th. session free. Book a Lumenis Laser Hair Removal treatment today for a beautiful hair free body....