Swedish Massage
A form of soft, relaxing and de-stress massage
The term "Swedish Massage" refers to a variety of techniques specifically designed to relax muscles by applying pressure to them against deeper muscles and bones, and rubbing in the same direction as the flow of blood returning to the heart.

This form of massage was developed in the 1700's by a Swedish doctor named Per Henrik Ling.
Benefits

This massage also known as soothing massage, relaxing massage or de-stress massage is great for the feels good factor, relaxing and invigorating. It affects the nerves, muscles, glands, and circulation, while promoting health and well being.

Purpose

The main purpose of this massage is to increase the oxygen flow in the blood and release toxins from the muscles.

It shortens recovery time from muscular strain by flushing the tissues of lactic acid, uric acid, and other metabolic wastes. It increases circulation without increasing heart load. It stretches the ligaments and tendons keeping them supple and pliable. Swedish massage also stimulates the skin and nervous system and soothes the nerves themselves at the same time. It reduces stress, both emotional and physical, and is suggested in a regular program for stress management. It also has many specific medical uses.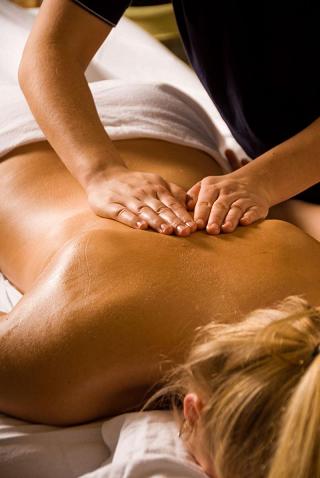 Techniques

These massage techniques include: long strokes, kneading, friction, tapping, percussion, vibration, effleurage, and shaking motions. The usually sequence of techniques are :

Effleurage: Gliding strokes with the palms, thumbs and/or fingertips

Petrissage: Kneading movements with the hands, thumbs and/or fingers

Friction: Circular pressures with the palms of hands, thumbs and/or fingers

Vibration: Oscillatory movements that shake or vibrate the body Percussion: Brisk hacking or tapping

Passive and active movements: Bending and stretching
What to expect from a Swedish massage

Your massage will last around 60 or 90 minutes.
I will assess your complexion at the start of your treatment. I use a grape seed oils with rosemary essential oil to facilitate a series of strokes and techniques classic to Swedish massage. The treatment is very sensitive to pressure and takes into account the delicate or tender areas of your body, so it should be comfortable and soothing.

Useful after massage information.

All massage can leave you feeling thirsty and needing to go to the toilet more than usual - this is because it's got your lymph circulation going and your body is flushing out toxins. Drink plenty of water afterwards as you slowly drift back to planet Earth.

Afterwards

You'll probably feel quite relaxed and maybe even sleepy, so give yourself plenty of time to unwind. Savour the feeling of having every muscle in your body gently stretched and smoothed out.

I'm passionate and committed to the highest ethical standard within our profession and will do our best to ensure your satisfaction.

See what my clients say about my massage :




That was wonderful. Thank you.
Feeling very relaxed.
Sarah 20-8-2013

You are very good at what you do. Thank you.
Glad I found this place.
Vera 1-8-2013

Thank you so much. I feel so relaxed now, ready for my wedding!
All the best for you!
I will definitely recommend you!
Kristina 24-7-2013

Dear Lei, that was perhaps the best massage I have ever had.
A truly wonderful experience...
Thank you so much...
Ruth T 9-7-2013

Thank you Lei - that was wonderful and release a world of tension!
Jane 6-6-2013

Thank you Lei...
Very very relaxing.
Laura 1-6-2-13

A lovely de stressing massage. Thank you
Danela Ramos 8-5-2013

Fantastic neck& back massage - so relaxed & all soreness disappears
Thank you and see you next week
Sarah 4-5-2013

Came in feeling stressed and left feeling relaxed and happy!
Wonderful as always. Thank you
Michele 4-5-2013

Dear Lei
I feel a million times better walking out than I did walking in!
I'm so relaxed!
Thank you
Ariane

Thank you!
Looking forward to my next massage already.
Jenny

Amazing!
The best treatment I have ever had, every time I come!
Thank you so much,
Lydia

Cannot live without your massage!
Addictive.....
Bella x

Amazing!
Could feel the tension melting away....
Thank you
Megan

Dear Lei,
Thank you so much for the extremely professional and dedicated work!
Without your massage my recovery wouldn't have been successful enough.
Best of wishes,
Valeria
more great feedback


Price List

Neck, Back & Shoulder Swedish Massage(30 mins) £35.00

Full Body Swedish Massage(60 mins) £60.


Book your appointment online by clicking on the book button below. 24 hours cancellation policy applies.